Bitrix24 Cloud offers an effective online service for all your employees to work together
Details
Please get a quote for an accurate assessment regarding your goals and needs
Bitrix24 Cloud Enterprise Edition
Cloud services have long been widely used by all kinds of organizations, regardless of their size, industry, and goals. Convenience and simplicity, high availability and mobility are all about cloud-based systems of business automation. Sometimes, organizations use several cloud applications to automate different areas of work. It is more effective to use only one online service for everything: Bitrix24 Cloud.
What is Bitrix24 Cloud
A single event feed for employees
HR tools for team unity
Instant messaging for fast communications
Tasks and reports to improve performance discipline
Projects and groups for thematic discussions
Bitrix24.Drive cloud data storage system for collaborative work on documents
Calendars for convenient planning
CRM and cloud telephony to increase sales and organize a cloud call center
Register with Bitrix24 and start working immediately! There is no need for installing additional software, no need for extensive courses to master it. With Bitrix24, you are always in touch with your colleagues. Quickly respond to tasks, join discussions and work with documents. And thanks to IP telephony, you won't miss a single call from your client.
Bitrix24 Features
Chats & video calls
Online meetings
Feed
Calendar
Online documents
Drive
Webmail
Workgroups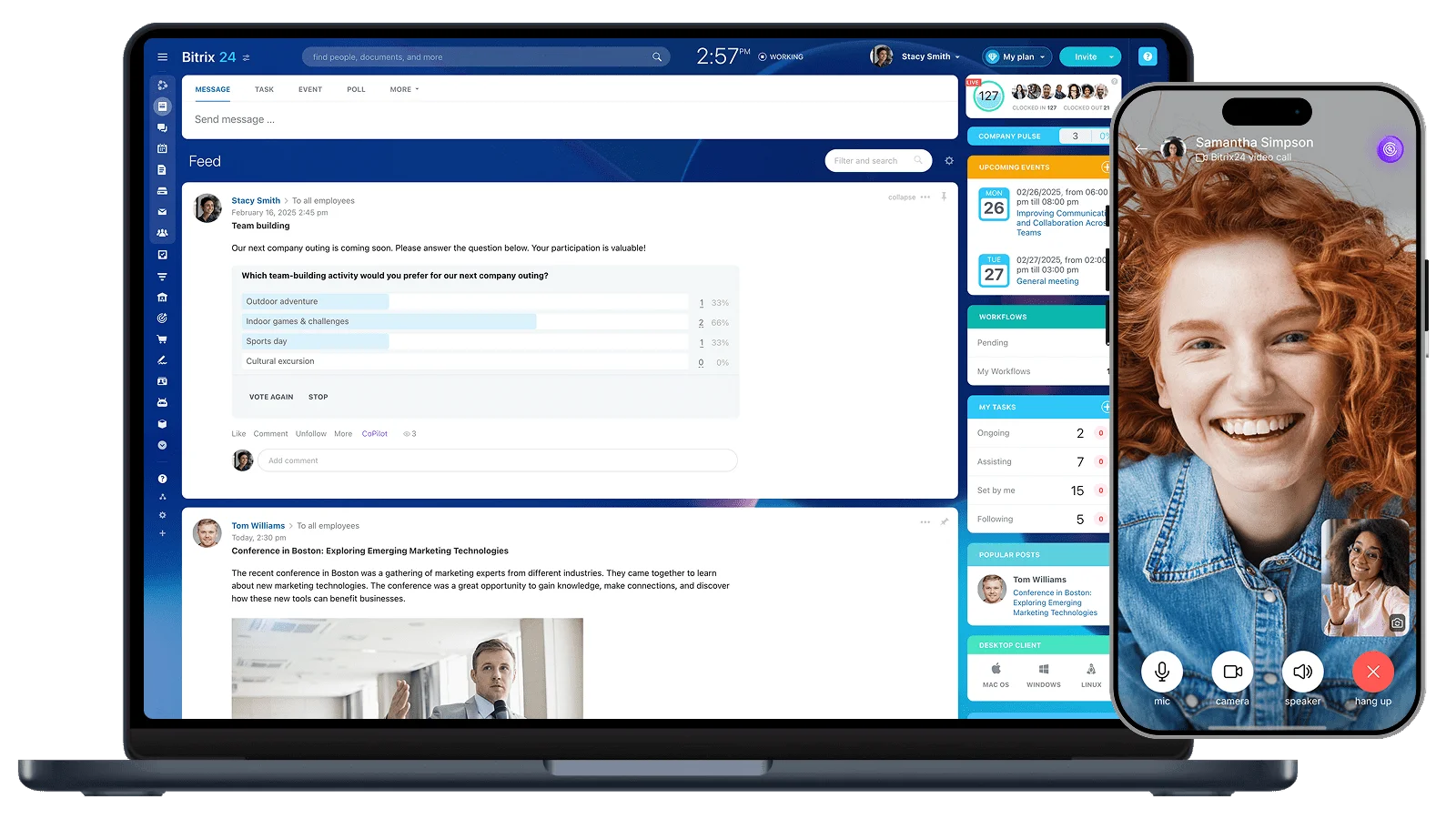 Leads, Deals
Contacts, Companies
Quotes, Invoices
Online payments
Sales automation
Rules and triggers
Contact center
Marketing
Sales Intelligence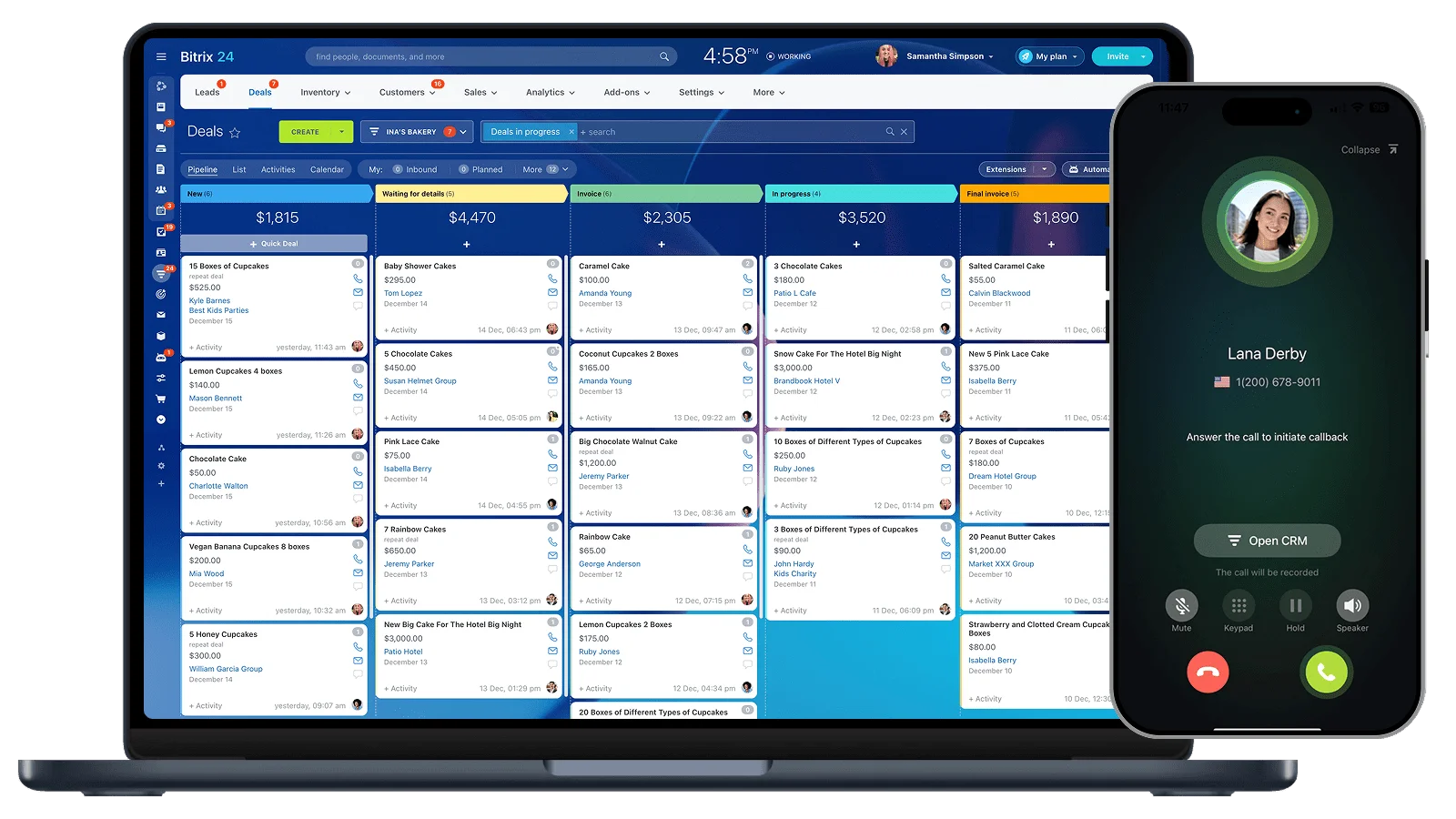 Tasks
Projects
Gantt chart
Kanban board
Time tracking
Task and project templates
Task automation
CRM integration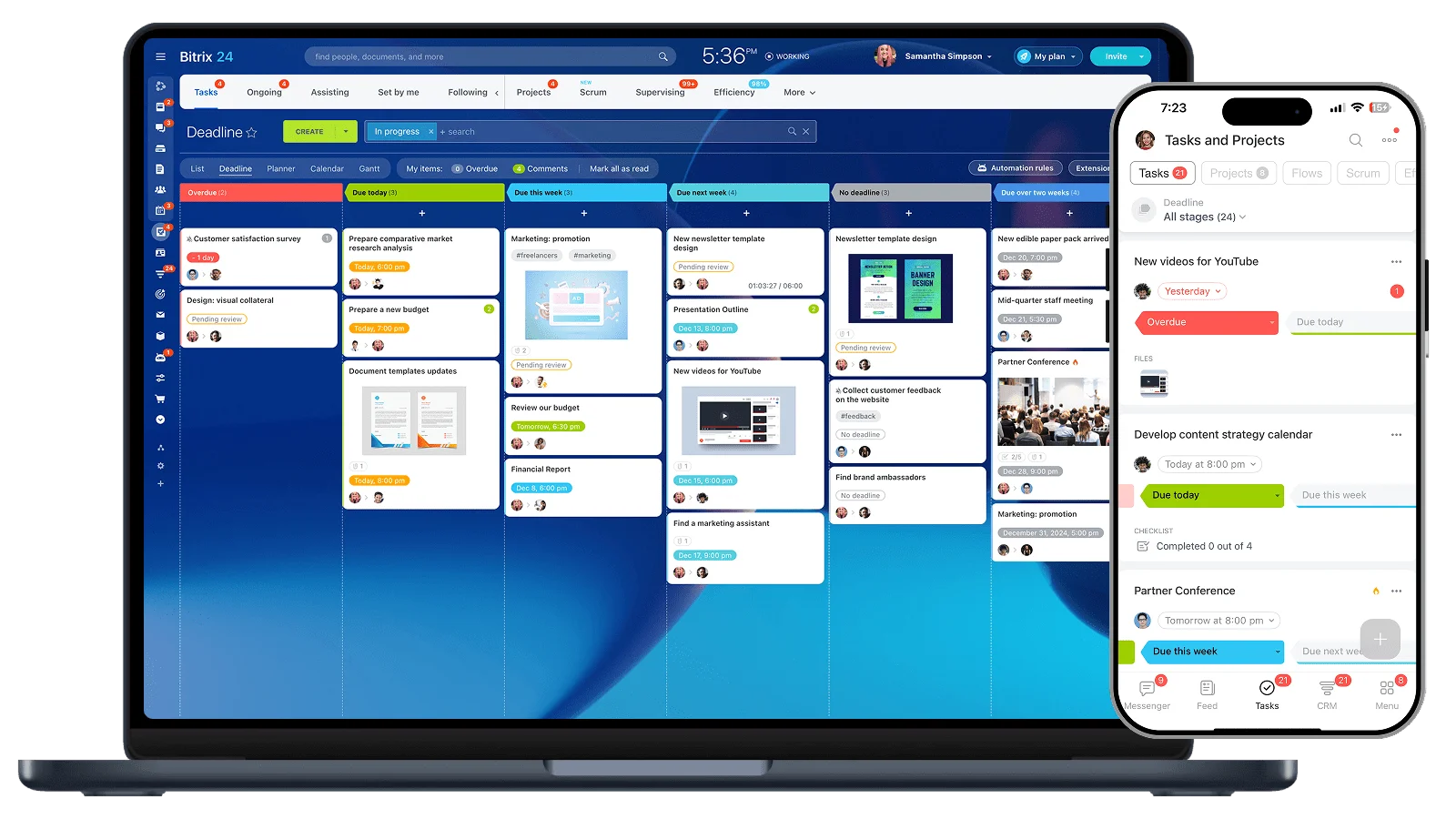 Free website builder
Online store
Free templates
Mobile & SEO friendly
Web forms
Web widgets
CRM integration
Google Analytics integration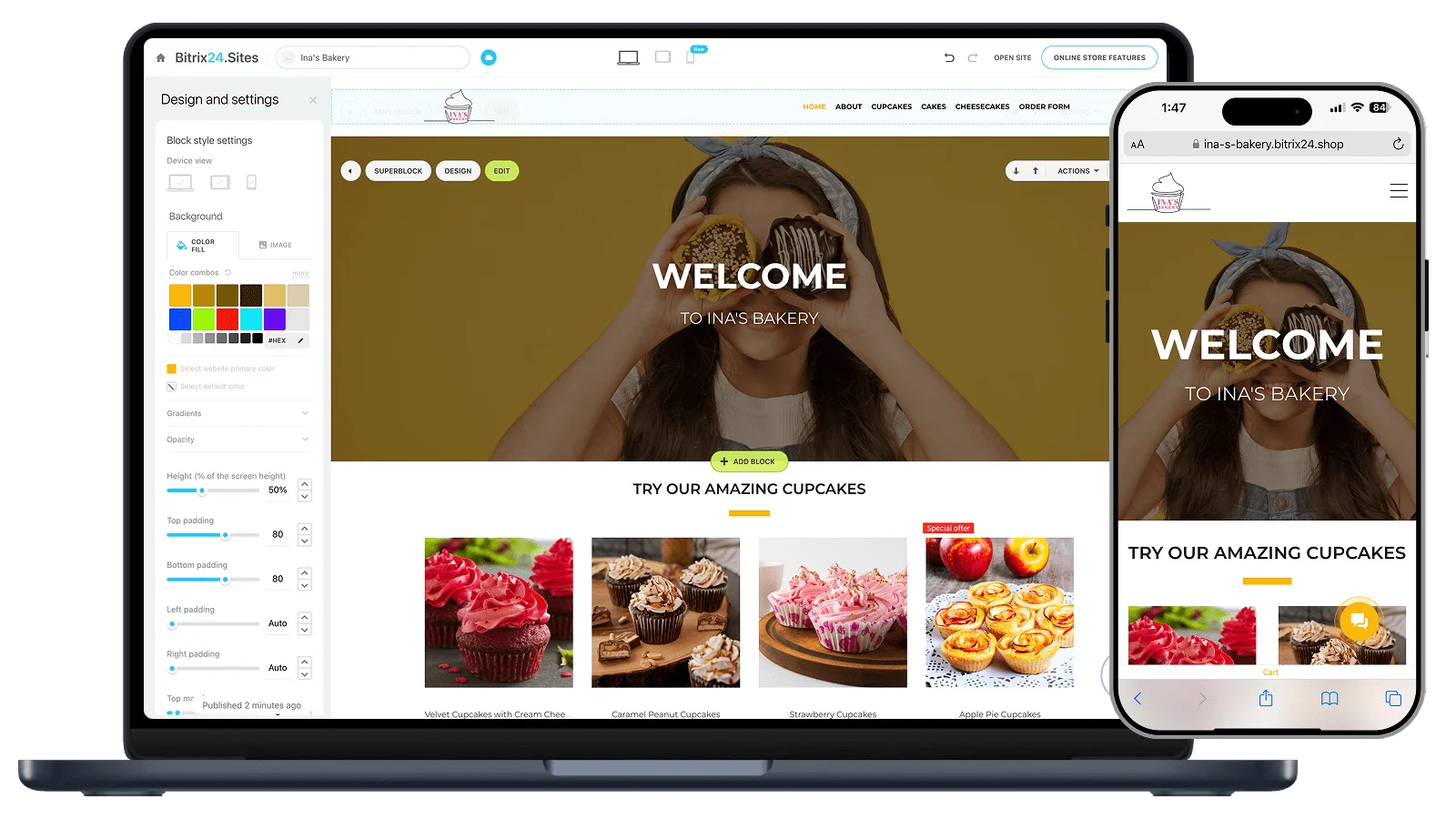 Employee directory
Worktime tracking & reports
Absence management
Announcements & appreciations
Workflow automation
Requests & approvals
No-code RPA
Knowledge base
Questions and answers
Is Bitrix24 pricing per user?
There is no per-user pricing for Bitrix24. The cost is fixed according to commercial plans.
Every Bitrix24 commercial plan is designed for a certain number of users. That means there is no need to pay extra for every new employee; additional costs are necessary only if the company reaches Bitrix24 user cap for its current plan.
For more information on Bitrix24 commercial plans, please visit our dedicated pages for Bitrix24 Cloud and Bitrix24 On-premise.
When was Bitrix24 created?
Bitrix24 as a "social intranet" project was firstly introduced in April, 2012, in the form of a beta release.
Later that year, Bitrix24 became a fully operational cloud-based collaboration platform that is available in Bitrix24 Cloud and Bitrix24 On-premise (also called self-hosted) editions, with an open-source code for the latter.
To purchase a product or a service you like, click the "Start trial" button. Our manager will contact you as soon as possible to discuss the details and finalize the order.
We have two options: online payments through Stripe and wire transfers to our bank account. In the case of a wire transfer, the invoice will contain all the necessary instructions for payment.
Projects
Marketing
Bitrix24 CRM post-implementation development and customization for a digital marketing agency that has been working in Bitrix24 for years
IT
Bitrix24 CRM implementation with deal customizations for an agency that specializes in Magento ecommerce platform
Food Processing
An employee-friendly CRM with highly effective functionality to improve task management and marketing strategies
Articles
Today's market abounds with different CRM systems: leaders with a price tag that can scare away even some Enterprise customers, pretty successful and balanced mid-tier players, and a sea of small startups with varying degrees of doneness.
CRM software solutions are one of those tools that have become essential for healthy businesses that want to grow and expand. CRM helps in keeping track of all the information and data related to the customers, their interactions with the company, and their purchase history.
Almost every company works with leads and clients, no matter how big or global it is. The sales growth and quality of the customer service largely depend on the availability of the CRM system and the company's ability to use it efficiently.