Fast. Secure. Scalable. Integrated.
Details
Please get a quote for an accurate assessment regarding your goals and needs
Cloud Block Storage for Bitrix24 On-premise
Product participates in the action
Get 12 months of Cloud Hosting when you buy Bitrix24 On-premise
Elevate your Bitrix24 On-premise experience with Selleris Cloud Block Storage – a pinnacle of lightning-fast, ultra-reliable, and dynamically scalable storage solutions. Our state-of-the-art real-time tracking system paired with our top-tier storage architecture guarantees your databases, files, and critical data are perpetually available, even when facing unpredictable challenges. With a dedicated roster of seasoned data center engineers monitoring 24/7, we ensure your storage speed, stability, and security remain uncompromised.
Opting for Selleris Cloud Block Storage with your On-premise edition is the marriage of Bitrix24's unparalleled customization capabilities with the sheer power and efficiency of Selleris Cloud. This combination is indispensable for corporations with demanding data processing needs, like those with intensive CRM interactions, assuring superior speed without straining server capacities.
Security is our credo. With airtight access protocols, timely security enhancements, and thorough penetration tests, our undivided focus is the impenetrable defense of your data.
For the elite users of the Enterprise edition of Bitrix24, we extend a tailor-made, infallible, and secluded storage infrastructure. Our pledge is to offer unmatched data defense and an experience that borders on no downtime, solidifying the continuity of your business endeavors.
But Cloud Block Storage for Bitrix24 On-premise isn't confined to just data. It's an instrumental cornerstone for building intricate websites and digital storefronts that integrate seamlessly with CRM. With Selleris's seasoned professionals by your side, you're empowered to unlock the unparalleled potential of these resources, crafting a direct trajectory to invaluable business gains.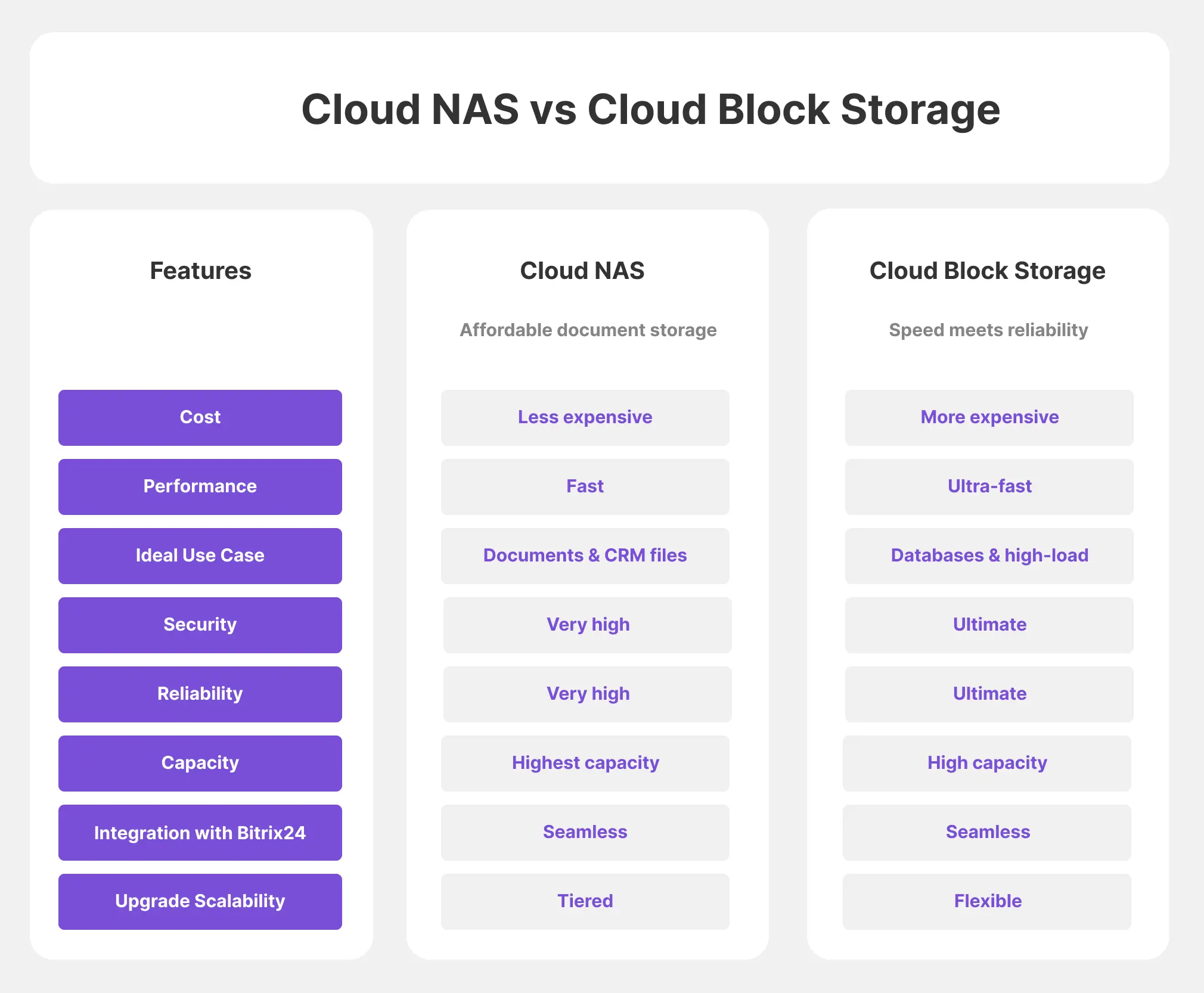 To purchase a product or a service you like, click the "Start trial" button. Our manager will contact you as soon as possible to discuss the details and finalize the order.
We have two options: online payments through Stripe and wire transfers to our bank account. In the case of a wire transfer, the invoice will contain all the necessary instructions for payment.
Articles
Managed hosting providers, also called MSPs, help businesses with their IT and cyber security needs. An MSP is a company that provides services like managed cloud hosting to their customers. The MSP manages the customer's IT infrastructure and offers other services like cyber security, data backup, and disaster recovery.

MSPs are in high demand because they offer a wide range of services for their clients at a lower cost than hiring an internal IT staff to handle all of these tasks.