Bitrix24 On-Premise Service Suite includes all the benefits of a managed cloud infrastructure, unleashing the full power of Bitrix24 On-premise. It's time to stop juggling numerous platforms and start using one that replicates the work process and offers countless opportunities for development and customization.
Bitrix24 On-Premise Service Suite provides a complete set of services necessary for the highest performance of all the features that Bitrix24 On-premise edition offers. All in one place, from one company. You also get the expertise of a skilled team that has hundreds of various implementations under their belt. We give particular attention to data security and protection against data loss.
Bitrix24 On-Premise Service Suite includes:
Sometimes, it is hard to grasp: what exactly is needed to streamline business operations? Businesses are prone to have pains and needs that are often quite specific, and it is not always clear if a particular software solution will "get the job done". To find the right one for your needs, consult with our experts. We will analyse your business, develop a tailored solution architecture and offer a finished implementation project.
Bitrix24 Managed Cloud Hosting
Managed Cloud Hosting is the most reliable and cost-effective option for hosting software and storing data. With our Managed Cloud Hosting, you will be able to store it in a secure environment: there is no need to worry about hardware procurement, software management, backups or maintenance. Selleris Team takes care of the server management and maintenance for you, so you can focus on what matters most.
Bitrix24 Managed Cloud Hosting Pricing
Enrolling in the Bitrix24 platform is an exciting time for any business! The implementation process can seem daunting, but it is simple and streamlined if done correctly. We are a team of Bitrix24 specialists available to carry out the implementation project smoothly while providing feedback on every step. Bitrix24 is a flexible and fully customizable software solution, so we can make it look like your new home. It also contains many apps and integrations with popular services, allowing us to create a customized experience tailored to your specific business needs.
Bitrix24 Development and Customization
Bitrix24 On-premise has almost unlimited potential to expand its functionality through development and customization, and Selleris Team has extensive experience developing projects in compliance with all Bitrix24 standards. Our skilled developers and project managers work together and focus on all aspects of the assignment to accomplish it accurately and meet arranged deadlines in time. The company is committed to providing excellent service and is ready to answer any questions you might have.
Technical support is one of the most important aspects when it comes to IT services and complex software solutions. With Selleris Cloud Business Suite, you will receive a full range of support resources: detailed and well-structured user documentation, tutorials, instructional videos, direct online chat with Bitrix24 support, and our team's own assistance.
Bitrix24 is a CRM, but it is also so much more. With Bitrix24, your company will be able to communicate through email and chat, schedule meetings and events, share files with co-workers and clients securely, track time spent on projects with ease, create reports of all types, generate invoices and more.
Bitrix24 is a comprehensive suite of business apps you can wield to manage teams and customers. These powerful business tools are accessible from any device with an internet connection and offer a streamlined experience for managing business operations. The software solution combines CRM, sales automation, marketing automation, internal collaboration, and customer care tools in a single package. It also offers online chat with unlimited users and chat rooms for every department, workgroup, and project to optimize communication.
Bitrix24 Features
Chats & video calls
Online meetings
Feed
Calendar
Online documents
Drive
Webmail
Workgroups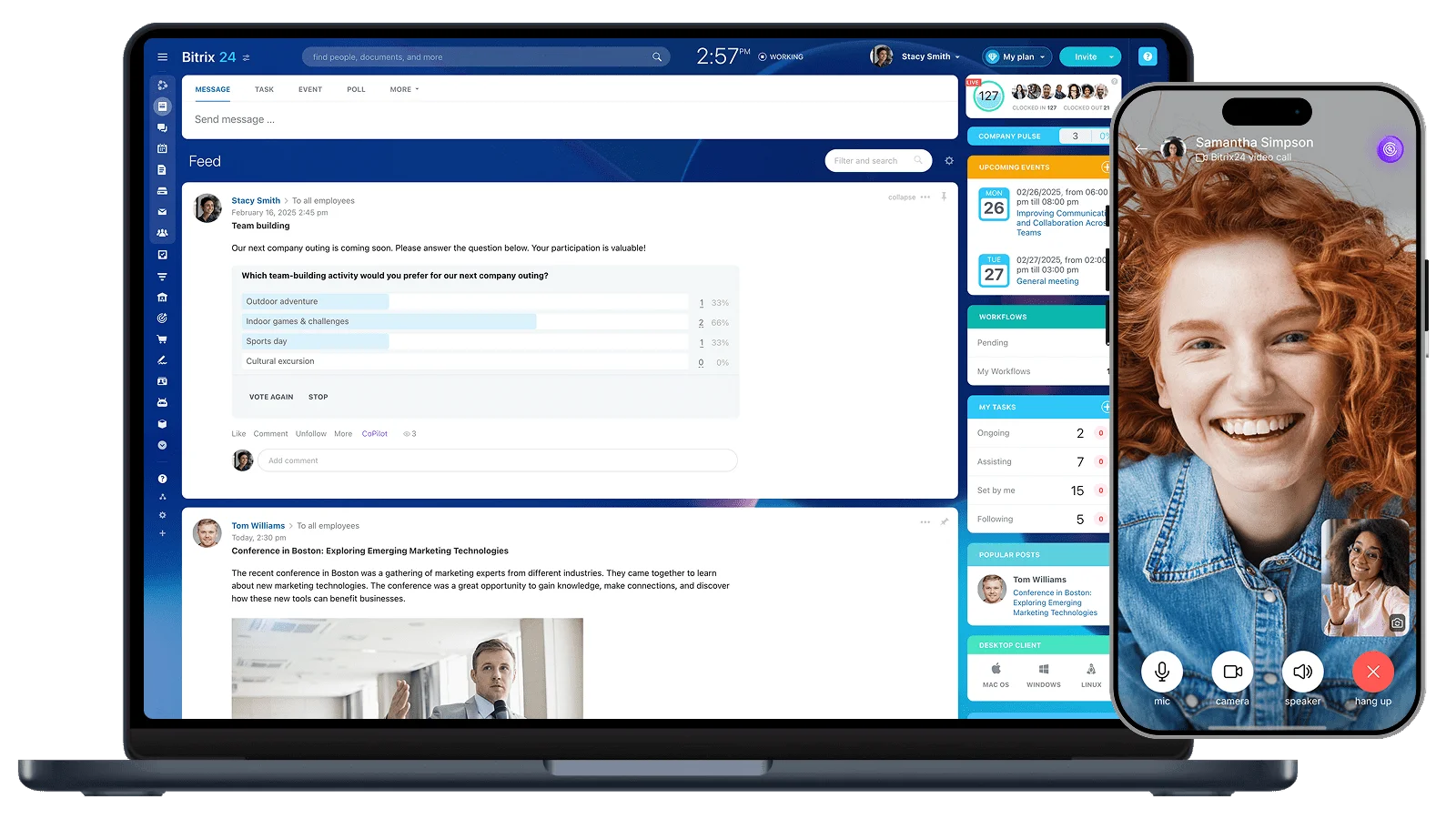 Leads, Deals
Contacts, Companies
Quotes, Invoices
Online payments
Sales automation
Rules and triggers
Contact center
Marketing
Sales Intelligence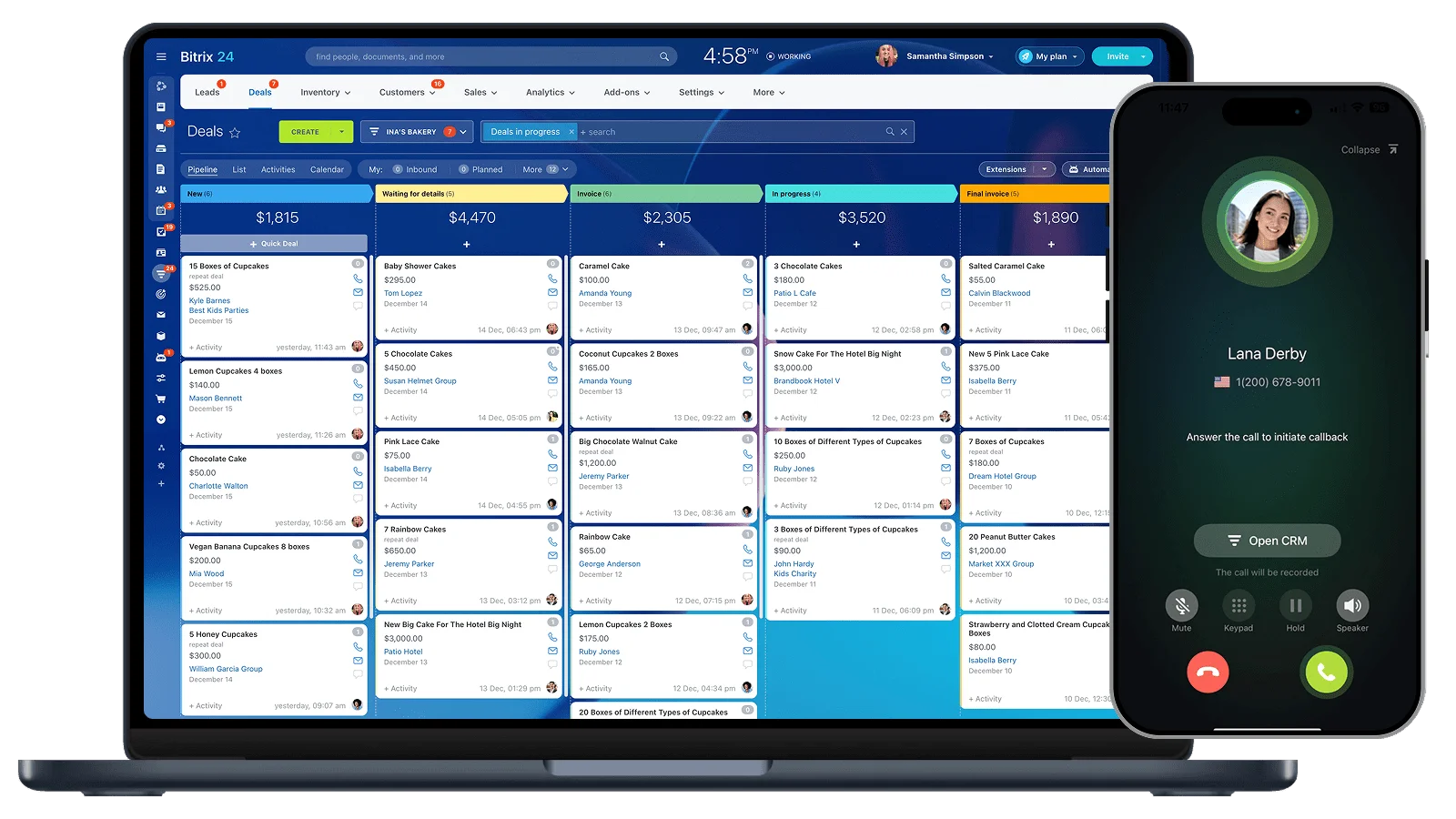 Tasks
Projects
Gantt chart
Kanban board
Time tracking
Task and project templates
Task automation
CRM integration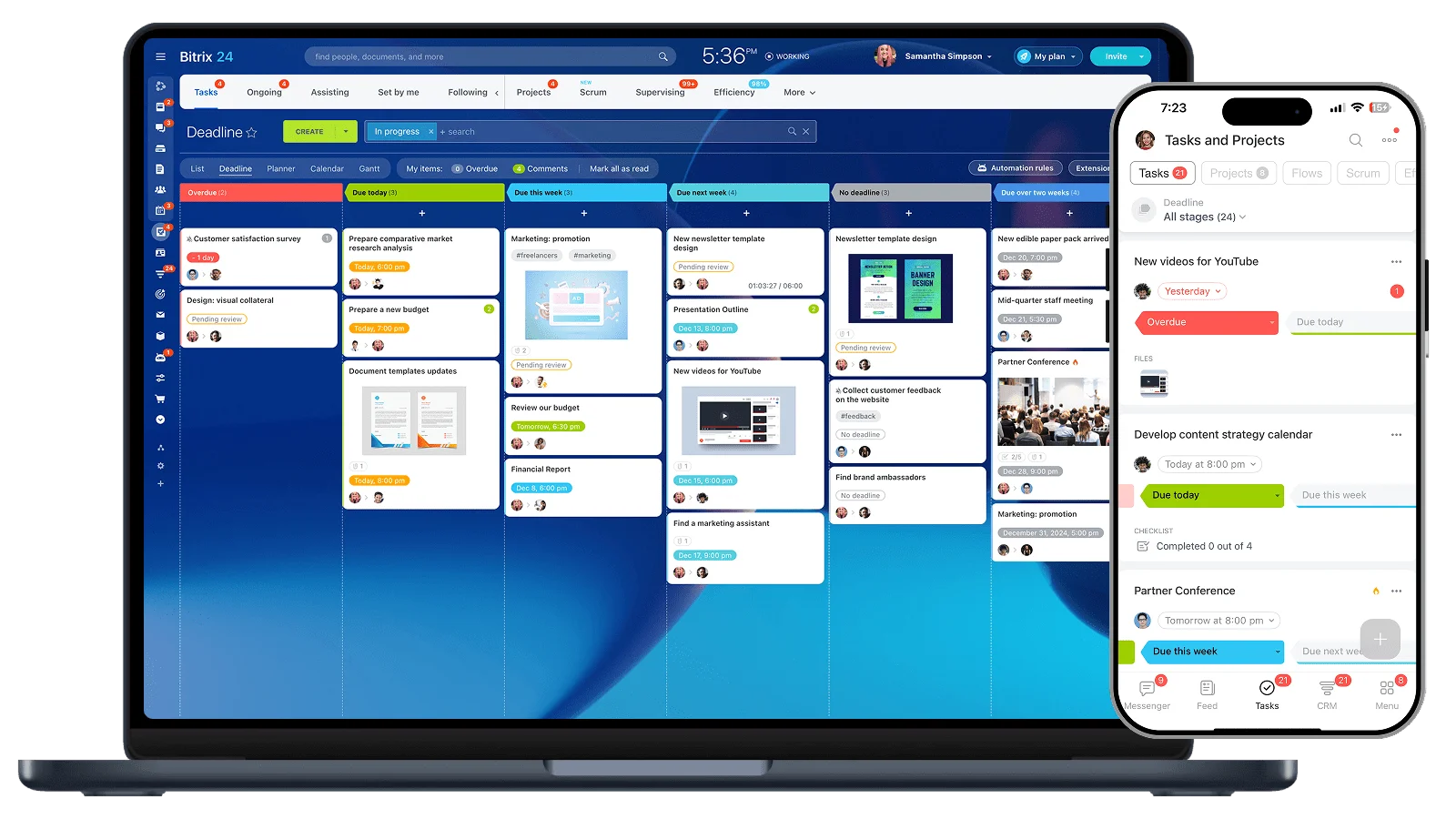 Free website builder
Online store
Free templates
Mobile & SEO friendly
Web forms
Web widgets
CRM integration
Google Analytics integration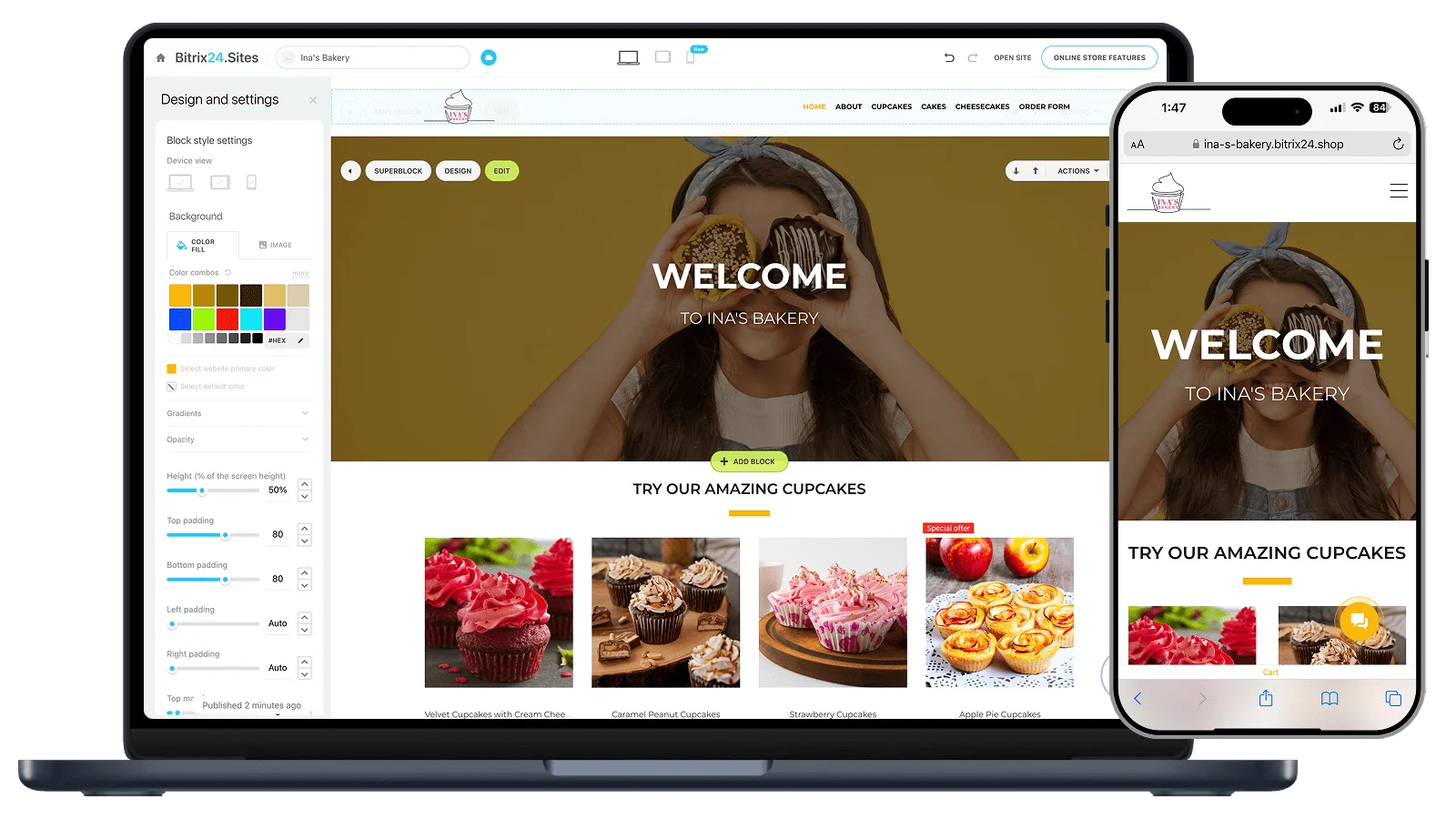 Employee directory
Worktime tracking & reports
Absence management
Announcements & appreciations
Workflow automation
Requests & approvals
No-code RPA
Knowledge base
Full list of Bitrix24 On-premise features